About the Artist

I was born and raised in Winnipeg. I started drawing at a young age, looking up to my father who is a great artist. I started painting in high school, But in 2016 is when I started doing art full time. At the time I was enrolled in the education program at the university of Winnipeg, but I knew it wasn't for me. I dropped out, in favour of pursuing a career in art. All of what I've learned is through exploring feelings through paint. Every colour has a feeling and feelings create a path that I follow, and from this path my style emerged. Putting all my energy into creativity, I began to receive very many ideas, and I just let the tap of creativity flow! I learned different techniques as I painted. The fun whimsical nature of my art developed as I painted! I believe it is an outward expression of how God created me. I really do feel that each one of us has something unique to offer by truly following how they were beautifully designed. This world can really benefit from all of us following that path! I currently work full time from my home studio, taking on commission work as well as creating new originals. ~ Josiah Koppanyi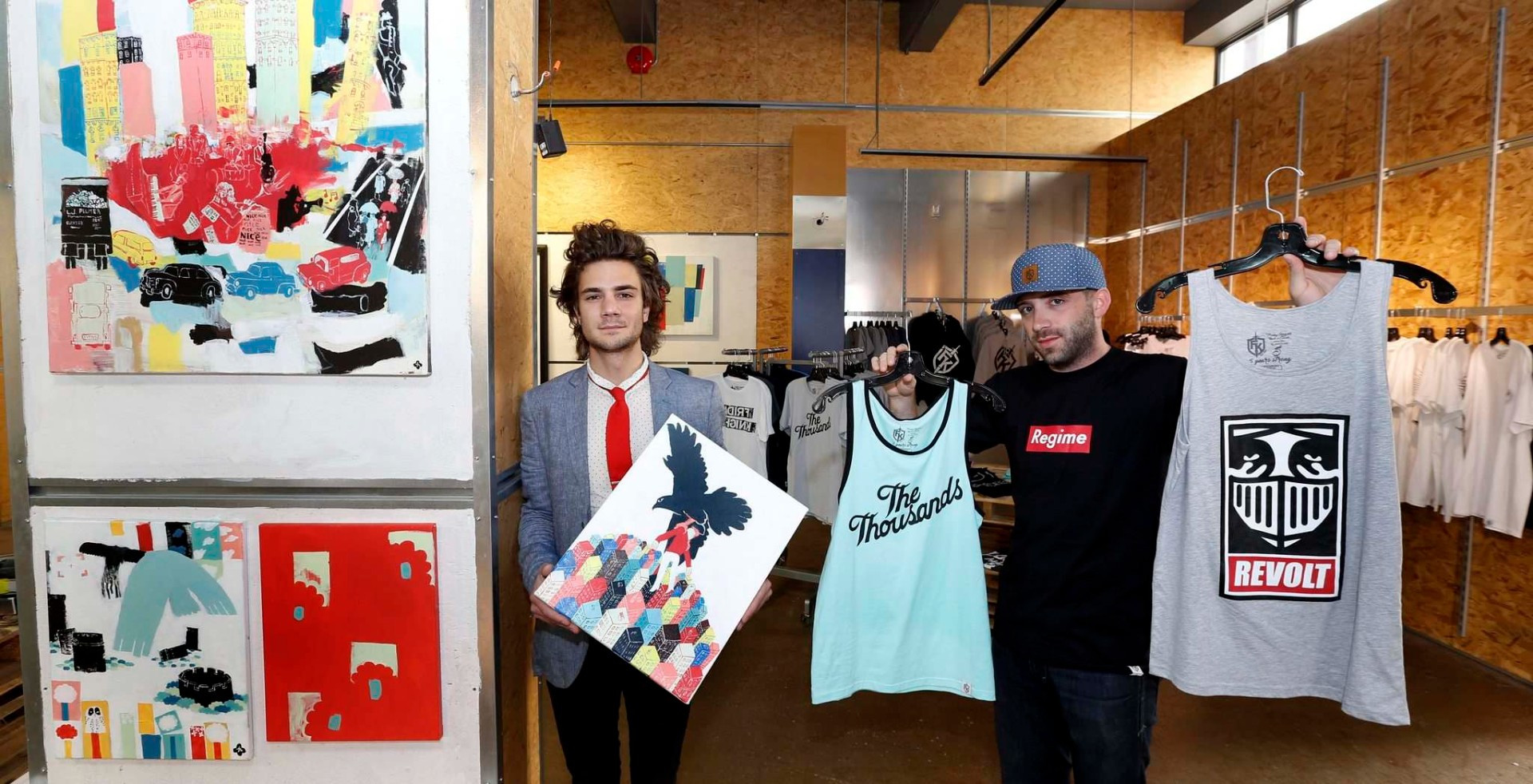 The Painting Journey
It all started in the summer of 2016. I was 27. This was the first time that I met Eric Olek owner of Friday Knights, when we both got the opportunity of a life time: we got to co-own a pop up shop downtown! This was the first time that I stepped out as an artist full-time. This Downtown Biz opportunity really propelled both of our entrepreneurial journeys forward in a big way.
Here is a quote from the very first article I was interviewed for:
"Being an artist was always this airy-fairy idea that was like, 'yeah that would be really, really great, but completely impractical.' "
He studied education at university but continued to paint.
"That's what I really, really liked. That's when my soul came out," he said. "It was like I was able to be me."
Koppanyi quit university and rented a gallery space on Arlington Street. Syvixay reached out to Koppanyi and offered him the chance to move into the space on Portage Avenue.

"This is the first time in my life where all of a sudden, this airy-fairy dream I had as a kid is not airy-fairy anymore — it's tangible, and it's actually selling," said Koppanyi.
In those early days it was a very exciting time for Eric and I, we met a lot of new people together. Eric taught me a lot about how to maintain a self run business in this day and age, and we really became good friends through this. After the first pop-up term ended, Eric found another pop-up opportunity through centre-venture on Graham Ave by The Bay downtown. We decided to go in on the shop together
344 Graham was our shop for that season. It was in this space that I got commissioned to do one of the biggest pieces I had ever attempted up to that point in my life. It was 8'x4', and was a giant building scape.
The Painting Process

For the art I create it is about balancing aesthetics. The balance of painting is about listening to the feeling and giving the painting what it needs. In a painting, illustration has a feel, colour has a feel, and both of these together communicate a feeling. The balance is in following the feeling. "Listening" to each painting and following the rules that are created. The more sensitive I am to listening to the "voice of the painting" created through illustration and colour pairing, the better the painting will be. When I start, the canvas is empty and the possibilities are limitless. The moment I choose a colour, the possibilities shrink. The moment I put that colour on the canvas, the possibilities shrink even more. And so, 'rules' are decided. Listening to what colours the painting needs is following these rules. The other side is the inspiration, the drive, the mood; this is what initially starts the ball rolling, but I cannot let it take over a piece. The balance comes with listening to the canvas.
Bio Written by
Simone Obendoerfer
Josiah Koppanyi was born and raised in Winnipeg, Manitoba and began drawing with his father as a child when he was fascinated and inspired by the illustrations of Richard Scarry. Josiah discovered painting while in high school but did not commit to pursuing a career in art until 2016. At the time, he was enrolled in the Faculty of Education at the University of Winnipeg, but struggled to fit into the academic sphere, partially due to his diagnosis of Attention Deficit Disorder (ADD). He now believes his neurodiversity played a major role in his stylistic development and the way he is able to view minutia in everyday life and landscapes. Josiah is a self-taught artist who developed his personal style by emulating artists that he admired such as Andy Warhol and Jean-Michel Basquiat. He played with combinations of various forms of art for years until he discovered his own personal style, which is rooted in pop art and cubism but takes on a playful and stylized illustrative lens. Although his subject matter is varied, Josiah's most popular works are of local urban landscapes that challenge the conventions of traditional planes to create whimsical, detail-oriented pieces. Josiah's career in art began to flourish in 2016 at his very first exhibition at ARTlington Studios in Winnipeg, where he sold 16 pieces over the course of two days. During the same year he collaborated in two pop up shows and began to make a name for himself in Winnipeg's art community. That same year he was contracted for his first commission: A 4' x 8' acrylic on canvas piece titled The City of Brunker. He was given free reign of the subject matter, creating the large fictional city scape in one month. He was extremely invested in the piece, overusing his medication to push himself to complete it within the promised deadline. This resulted in muscular damage to his right arm, and a loss of his ability to perform any fine motor work. Due to his injury, Josiah took an extended break from art, spending his free time partying and taking a variety of drugs. It was during this time that painting became straining, and he began to realize that he had done irreparable damage to his right arm. His addictions spiraled to the point where he was losing money, friends, and his business. Josiah credits his recovery to his relationship with Jesus Christ who, at his lowest point, spoke to him about the beauty that he was missing in the world. Since then, Josiah has been clean of all drugs and has learned to love himself and become inspired without medication. He also learned to become ambidextrous and now paints with his left hand. Josiah has earned most of his income through art exhibitions where he sells both original paintings and prints. He has garnered a large local following of supporters and enthusiasts, and through the pandemic and to this day he has been able to support himself through commissions and private sales. Josiah has completed several murals and other forms of public art. Notably he was contracted by the Osborne Village Biz and the Winnipeg Architecture Foundation for public displays in Osborne Village and the Exchange District. You can find his works in windows, on walls, and even on electric boxes in Winnipeg's most noteworthy neighborhoods. Josiah's work is celebrated locally, and his next step is pursuing national recognition.